Health & Fitness
A Lifestyle NOT a FAD!
2010 National Fitness Hall of Fame inductee, Forbes Riley, is an award-winning TV host, author, highly sought-after spokesperson, motivational keynote speaker, and life coach to celebrities and CEOs. She has helped millions take positive action in their own lives by sharing her passion for and unshakeable belief in the impact a healthy lifestyle can make in your life.
One of today's most accomplished entrepreneurs, she has been highlighted by Forbes magazine as a megabrand CEO for her SpinGym and has gained international celebrity due to her highly successful, globally broadcasted infomercials for the Jack Lalanne Juicer and the Living Well Healthmaster Blender, both of which have grossed hundreds of millions of dollars. Alongside Silly Bandz, Skullcandy and Carol's Daughter. E! has produced a TV special profiling each of these hot new products and their talented creators, filmed Got Rich Quick: Outrageous Fortunes. Forbes, crowned "America's Fitness Innovator," is passionate about finding unique ways for people to get and stay healthy through food and exercise. She's known worldwide for starring in the feature film about raw food, Super Charge Me! The daughter of an inventor, Forbes was named Miss Teenage New York at age 16, and her TV debut was with Bob Hope on NBC in the Miss Teenage America pageant.
Skipping a grade in high school
, she went on to the University of Rochester, where she graduated in three years with two degrees, the first in Political Science with a minor in History, and the second in Film Studies with a minor in Communication.
Shortly after graduation, she answered an ad in the NY film trade paper, Dramalogue, and landed the lead in Splatter Universit
y (1984), a cult hit which still has audiences screaming today. From there, she worked on Broadway as an actress and combined that with a career in hosting.
On television, Forbes has been featured numerous times on Fox, The Doctors and countless morning talk shows across the country. She is a familiar personality who has hosted series such as The X-Games on ESPN, Essentials on TLC (a daily talk show), and Zig & Zag Dog Game Show on Animal Planet. She spent five years as the original Fitness Host on Fit TV with Jake "Body by Jake" Steinfeld, the Cable Health Club as well as hosting series for ABC Family, Discovery , and MyNetwork TV.
A regular presence on QVC for almost 15 years, and now on HSN for the past 8 years, Forbes is known for selling her own line of branded lifestyle products including SpinGym and her motivational membership site www.FitWithForbes.com.
She works with entrepreneurs and inventors, to celebrities and Fortune 500 CEOs. Her personal coaching has helped people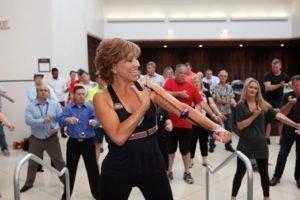 realize their dreams, get clear on their brand, and make millions. With an eye and heart towards charity, Forbes, who has always been active with Big Brothers/Big Sisters, Clothes To Kids, Dress for Success, SPCA (hosting several telethons), the Dexter Fund, Revlon Run/Walk for the Cure, and many others, has now enrolled her business to give back. SpinGym® will launch Go Pink! SpinGym Empowerment, a fitness program for breast cancer survivors sponsored by proceeds of the new pink SpinGym! Forbes divides her time between Los Angeles and Tampa Bay, managing her businesses, raising her family and increasing the awareness of health and fitness in all she does.